8510 Balboa Blvd
Northridge, CA 91325
(818) 654-3400
(866) 654-3471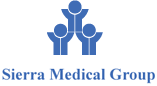 44469 N. 10th Street W
Lancaster, CA 93534
(661) 945-9411

275 N. El Cielo Road
Palm Springs, CA 92262
(800) 500-5215
(760) 969-6526

4580 California Ave
Bakersfield, CA 93309
(661) 327-4411

4580 California Ave
Bakersfield, CA 93309
(661) 327-4411

43839 N. 15th St. W.
Lancaster, CA 93534
(800) 266-HDMG
(661) 945-5984

12370 Hesperia Road Ste. 3
Victorville, CA 92395
(760) 245-4747

777A Flower Street
Glendale, CA 91201
(818) 637-2000

12966 Euclid Street, Suite #340
Garden Grove, CA 92840
(800) 747-2362
Regal Medical Group (RMG)
With a network spanning more than 5,000 square miles and thousands of health care providers, Regal Medical Group is part of one of Southern California's largest managed health networks. That size works to your advantage, allowing us to be there to coordinate all of your health care, when and where you need us. In spite of our size, we remain rooted in close community and operate upon the simple, traditional principles of knowing our customer, and providing respectful, personal, quality care.
At Regal, we know that navigating the healthcare system can be complicated for patients and for physicians. We also believe that during a visit to your doctor, the focus should be on health and wellness. You should be discussing things like prevention, diagnosis, treatment and healing, not coverage, networks, claims, regulations and billing. That's where an IPA, like Regal Medical Group, is able to serve both patients and physicians, by managing the business of managed care so that you don't have to.
Regal Medical Group works together with your healthcare plan and your PCP to keep things running smoothly. We collaborate with our physicians to provide quality care, while focusing on minimizing your out of pocket expenses. One way that we keep your overall health care costs low is by emphasizing preventative care in order to keep you healthy.
« Back
Sierra Medical Group (SMG)
Sierra Medical Group represents the future of medicine. Throughout our twenty five year history serving Antelope Valley, we have diligently invested our time and resources in the development of programs and services responsive to the healthcare needs of today's patient, while adapting to the increasingly diverse needs of tomorrow's health care agenda.
At SMG your health is our priority. An excellent team of specialty physicians who are either board certified or board eligible supports our primary care physicians providing you with a comprehensive healthcare network that is fully committed to your individual needs.
At SMG, we work hard to ensure that our patients receive quality medical care. This is why you will find easy access to your doctor, minimal waiting time for referrals, and staff members that genuinely care for your well-being.
« Back
Desert Oasis Health Care (DOHC)
DOHC is a team of highly skilled primary care physicians and ancillary providers, servicing the community with all their health care needs from newborn to senior care. We have convenient locations throughout the Coachella Valley, Morongo Basin and Yucca Valley areas.
DOHC's services include access to 6 Immediate and Urgent Care Centers - Bermuda Dunes, Indio, Palm Desert, Palm Springs and Yucca Valley. Our programs include Living and Aging Well, Home Health Services and Medication Management Services which are committed to improving your health proactively.
We are affiliated with every hospital in the Coachella Valley, which includes Eisenhower Memorial Hospital, Desert Regional Medical Center, John F. Kennedy Memorial Hospital and Hi-Desert Medical Center.
« Back
Bakersfield Family Medical Center (BFMC)
Bakersfield Family Medical Center provides excellence in health care to our patients in professional settings that promote wellness and preventive medicine in Kern County. Throughout the twenty year history of our medical group, we have diligently invested our resources in the development of programs and services responsive to the healthcare needs of today's patient while adapting to the increasingly diverse needs of tomorrow's healthcare agenda.
Our facilities offer superior patient convenience by providing Urgent Care, Pharmacy, Lab, Radiology, Pediatrics and a variety of specialty services at one convenient site. In addition, the Heritage Physician Network is a group of physicians located throughout Kern County who have joined together to form an Independent Physicians Association (IPA). These IPA physicians remain affiliated with BFMC although they maintain their own individual offices. Members who choose physicians in Heritage Physician Network will see their selected doctors in their conveniently located private offices. All members of Heritage Physician Network can access the full range of services, programs and specialists offered by BFMC.
« Back
Coastal Communities Physician Network (CCPN)
CCPN is an Independent Practice Association (IPA) formed in 2006, consisting of a network of contracted physicians located throughout the San Luis Obispo and Tulare counties. These IPA physicians are affiliated with BFMC/CCPN for the coordination of care rendered to members who have selected CCPN as their primary medical group.  Members who choose physicians of CCPN will see their doctors in their conveniently located private offices and also have access to a whole network of out-of-area specialists.  All members of CCPN can access a full range of services, programs and specialists through these contracted providers.
« Back
High Desert Medical Group (HDMG)
HDMG has a long-standing promise to provide residents of the Antelope Valley with the highest quality health care possible. Living up to our promise is an on-going commitment, which necessitates our growth as a multi-specialty medical group providing a wide range of health care services for our patients. For more than 25 years, we've been fortunate to have an impressive team of health care professionals, administrators, support personnel and dedicated volunteers who work in unison to help us deliver on our promise.
Together, we partner with local hospitals, medical experts and business leaders, and we actively support numerous organizations, educational, cultural and recreational events. Our team of healthcare professionals is available and ready to help you with all of your medical needs. We accept over 85 different health plans, including HMO, PPO, POS, EPO, Private and Medicare plans. Our Lancaster facility offers the convenience of having your Primary Care Physician, Lab, X-Ray, Urgent Care, Pharmacy, a Health Education Department, Infusion Center, and a multitude of subspecialties all under the same roof. In addition, our Urgent Care is now open 24 hours a day 7 days a week including holidays. We also have a full service Occupational Medicine Center on-site.
« Back
Heritage Victor Valley Medical Group (HVVMG)
Heritage Victor Valley Medical Group has exceeded our members' expectations since its inception in 2003 through personalized care by a staff of skilled professionals, a speedy referral system, and a panel of specialists to serve all your medical needs.
We believe the most important aspect of healthcare is tending to the personal needs of our patients. Our facilities are equipped with some of the finest diagnostic equipment and technicians available. We have the resources and commitment to always bring the best to meet the new challenges and ever-changing health care needs of the Victor Valley region.
« Back
Lakeside Medical Group (LMG)
Lakeside Medical Group is a comprehensive healthcare provider with a network of physicians and services throughout the San Fernando, San Gabriel and Santa Clarita Valleys, as well as parts of Ventura and San Bernardino Counties. We aim to deliver quality, affordable healthcare to the communities we serve.
We bring more than 20 years of innovation in healthcare delivery and management systems to our integrated network of services, which include hundreds of primary care physicians and over a thousand specialists; ancillary services, such as an outpatient surgery center, urgent care centers and physical therapy; and affiliations with premier hospitals, labs and other support services.
Our commitment to complete patient care includes developing new and better ways of delivering healthcare. From our approach to prevention and disease management to our hospitalist program and more, your care is coordinated so that you have the best possible outcomes.
« Back
Affiliated Doctors of Orange County (ADOC)
Affiliated Doctors of Orange County Medical Group, Inc., (ADOC) is an independent practice association, a medical group of over 275 private physicians and 600 specialty physicians who are dedicated to providing affordable, quality healthcare for individuals of all ages. We are affiliated with most major health plans, including many HMOs.
With offices throughout the greater Orange County area, chances are board-certified primary care physician and board certified specialists you need are in your own neighborhood.
Our goal is to help you make better care decisions for yourself and your family.
« Back
Dr. Richard Merkin, President and CEO of Heritage Provider Network sponsors Go Viral To Improve Health Prize, winners announced at Health Datapalooza in Washington DC on June 6, 2012
June 05, 2012

Media Contact:
Janet Janjigian, DC Media Group LA, Inc
janet@dcmediagroupla.com
WASHINGTON - VaxNation, an app designed to make it easier for people to keep up with their families' immunizations, won first place and a $10,000 prize in this year's "Go Viral to Improve Health: IOM-NAE Health Data Collegiate Challenge." The app organizes immunization records, reminds users when they or their children are due for a vaccination, and links to information about diseases. It was created by a team of students from Baylor College, Rice University, and the University of Texas. Teams from the Rose-Hulman Institute of Technology and Indiana University took second and third place, respectively.
VaxNation was selected from 51 entries submitted in response to this second annual, nationwide collegiate challenge from the Institute of Medicine (IOM) and the National Academy of Engineering (NAE). The contest calls on undergraduate and graduate students to use health data to design web-based or mobile applications that take on pressing health issues and provide active solutions. A unique feature of the challenge is that it requires interdisciplinary teams with members pursuing degrees in health professions as well as engineering, computer sciences, or related fields. VaxNation's developers are George Chen, Emma Corbett, Peter Kamel, Ronnie Ren, and Hashim Zaidai. Their winning app can be explored at http://www.vaxnation.org/.
Spencer Fox, Mark Vitale, and Aaron Wilson from the Rose-Hulman Institute of Technology won second place and a $5,000 prize for their mobile app called RaysAwareness, which increases and spreads knowledge about damage from overexposure to the sun's ultraviolet radiation. The app offers tips for preventing skin damage and syncs with the user's daily schedule to send reminders about preventative measures, such as when to apply sunscreen. Watch a demo of the team's app at http://bit.ly/KbEBvp.
Michele Degges, Mukta Gundi, Pranav Gupta, Matthew Holfelner, and Anthony Monaco from Indiana University won third place and a $3,000 prize with HealthyState, a mobile app that provides images and information about the overall health of the population of each state. This information can help people make decisions such as where to look for a job or where to retire. A demo of the app can be seen at http://bit.ly/KjNSm1.
The first place team will demonstrate VaxNation on June 6 in Washington, D.C., at the Health Data Initiative Forum III: The Health Datapalooza. This third annual gathering of health leaders, technology developers, and entrepreneurs aims to accelerate the public use of health data and spur innovation to improve individual and community health. All three winning teams will showcase their technologies in the forum's exhibit hall. More information on the forum, which IOM is co-sponsoring, is available at http://www.iom.edu/Activities/PublicHealth/HealthData.aspx.
"Data identifies health problems and can point the way to solutions, but only if they are harnessed in user-friendly ways," said IOM President Harvey V. Fineberg. "This year's winning apps demonstrate that ingenuity and collaboration among young people from different disciplines can yield creative, accessible tools and turn our smartphones or tablets into health improvement devices."
"These students have developed applications that can have real impact on people's lives," said NAE President Charles M. Vest. "Their accomplishments show the potential power of engineering in helping to improve the health of our nation."
The prizes for this year's challenge winners were supported by a generous $10,000 gift from Richard Merkin, president and CEO of the Heritage Provider Network (HPN).
"I am delighted to sponsor the grand prize in the Go Viral to Improve Health challenge because it harnesses the creativity and imagination of undergraduate and graduate students," Merkin said. "This generation will be the drivers of the disruptive innovation and creative destruction that health care so critically needs, and which it must undergo, to move from its current 'sick care' system to a system focused on wellness and caring for people before they get ill."
The Institute of Medicine and National Academy of Engineering along with the National Academy of Sciences and National Research Council make up the National Academies. They are private, nonprofit institutions that provide science, technology, and health policy advice under a congressional charter. For more information, visit http://national-academies.org.
The Health Data Initiative, originally launched in 2010 by the Institute of Medicine and the U.S. Department of Health and Human Services as the Community Health Data Initiative, is a public-private collaboration that encourages innovators to utilize health data to develop applications to raise awareness of health and health system performance and spark community action to improve health.
Heritage Provider Network Inc. develops programs and services that are responsive to the health care needs of today's patient. HPN organizes and manages medical groups and independent practice associations, integrating with hospitals and ancillary care providers. It is dedicated to quality, affordable health care, and putting patients' wellness first. For more information, visit http://www.heritageprovidernetwork.com.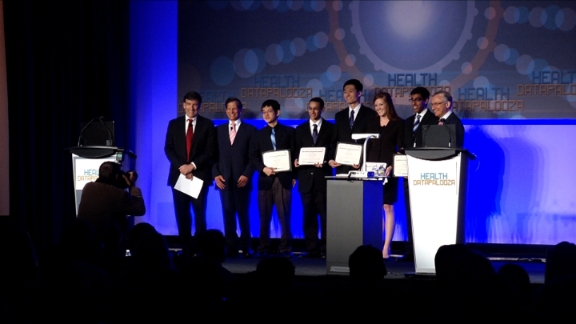 From left to right: Proctor Reid, National Academy of Engineering, Dr. Richard Merkin, President & CEO, Heritage Provider Network, Grand Prize Winning Team VaxNation, Harvey V. Fineberg, Institute of Medicine at the Datapalooza Conference, June 6, 2012, in Washington D.C..
«Back